Thank You
Rosa Parks
for your Inspiration!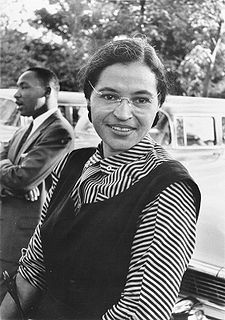 Rosa Parks, Martin Luther King Jr in background
I have learned over the years that when one's mind is made up,
this diminishes fear; knowing what must be done does away with fear.
~ Rosa Parks
Rosa Parks


Rosa Parks was a civil rights activist, secretary Youth Advisor for the NAACP,best known for her role in starting the Montgomery Bus Boycott that lasted 382 days

.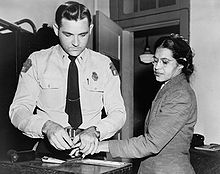 At the time I was arrested I had no idea it would turn into this.
It was just a day like any other day. The only thing that made it significant
was that the masses of the people joined in.

~

Rosa Parks
| | |
| --- | --- |
| Rosa Parks & MLK: | Rosa Parks was born Rosa Louise McCauley in 1913 in Tuskegee, Alabama. Her childhood was filled with the injustice of segregation and racial prejudice. Mrs. Parks recalled in an interview, "we didn't have any civil rights. It was just a matter of survival, of existing from one day to the next. I remember going to sleep as a girl hearing the Klan ride at night and hearing a lynching and being afraid the house would burn down." In the same interview, she cited her lifelong acquaintance with fear as the reason for her relative fearlessness in deciding to appeal her conviction during the bus boycott. "I didn't have any special fear," she said. "It was more of a relief to know that I wasn't alone." It was a lifetime of injustice that led to her decision to not give up her seat that day on the bus. She married Raymond Parks & they both worked quietly to effect change. God was at the core of all her beliefs. She served the NAACP as Youth Advisor & started a foundation with a special program for youth. After the death of her husband in 1977, Mrs. Parks founded the Rosa and Raymond Parks Institute for Self-Development. The Institute sponsors an annual summer program for teenagers called Pathways to Freedom. In 1995, she published her autobiography titled Quiet Strength that discussed how her faith kept her strong. She died in 2005 at the age of 92 . |
Awards for Rosa Parks include:
The Spingarn Medal ~ National Association for the Advancement of Colored People (NAACP) for outstanding achievement by an African American 1979
The Presidential Medal of Freedom 1996
The Congressional Gold Medal 1999
The Southern Christian Leadership Council established
an annual Rosa Parks Freedom Award in her honor.
After her death, her casket was placed in the rotunda of the United States Capitol for two days, so the nation could pay its respects to the woman whose courage had changed the lives of so many. She is the only woman and second African American in American history to lie in state at the Capitol, an honor usually reserved for Presidents of the United States. She later was honored in the nation's capitol with a statue.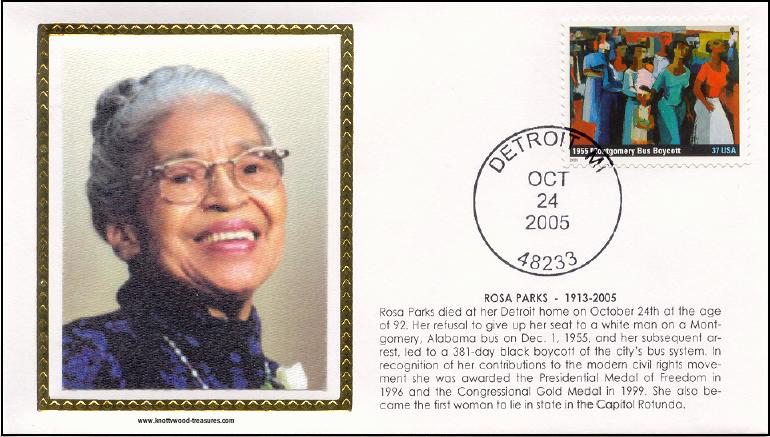 I would like to be remembered as a person who wanted to be free...
so other people would be also free. ~ Rosa Parks
Rosa Parks Speaks
A brief interview with the soft spoken yet powerful Rosa:


Trust What You Hear Color Seats
Sojourner Truth * Ida B Wells * Claudette Colvin * Rosa Parks

There are many informational and inspirational
books and web pages on Rosa Parks;
we thank them for educating us and for the pictures!
Her Wiki page is here: http://en.wikipedia.org/wiki/Rosa_Parks
Look her up and read, read, read for yourself!